Ready to take the next step in your education?
Eligible students across the country can now complete a bachelor's degree for little to no cost!
In partnership with Central State University
The program will start with bachelor's level courses offered in Education and Business Administration. More programs will be added in 2020.
Participating unions and organizations are offering this to their members and their family members. Eligible students will be able to earn their degree online at a significantly reduced cost.
Student Success Degree Program
We know the cost of education can be daunting, yet academic credentials are becoming more and more important in the workplace. Further, our busy lives make it hard to be on campus every week. We want to knock down those barriers to academic success and let you focus on learning! With our online bachelor completion program, eligible students who have an associate degree or have earned 60 or more credits in their chosen field of study, can apply to attend Central State University online at a highly discounted cost. Eligible students will receive a Student Success Grant that will reduce their out-of-pocket cost to no more than $4,500 per year, for full-time students. ($4,000 for in-state students) Depending on federal or employer grants available, many students may pay much less, or even zero out-of-pocket.
Online classes let you balance life's demands, making it possible to go to school while you continue to work.
You can choose either 8 weeks or 16-week classes, and 24/7 access means you can work on assignments any time of day, anytime during the week!
Graduate from a respected, regionally accredited academic institution. CSU is governed by the Ohio Department of Higher Ed and is part of the University System of Ohio.
Now Enrolling For Spring (2) Start March 9, 2020
Union Plus
The Bachelor's of Science in Early Childhood Education prepares educators who are effective in serving as active facilitators of learning for the diverse student population. The College of Education is committed to the preparation of educators that are able to experience and appreciate students, as well as the various ways of learning.

The Bachelor's of Science in Business Administration with a Concentration in Management is not only designed to help students develop a firm knowledge base in business, but also to enhance the student's sense of self-discipline, dedication to purpose, and confidence necessary for success in the world of commerce.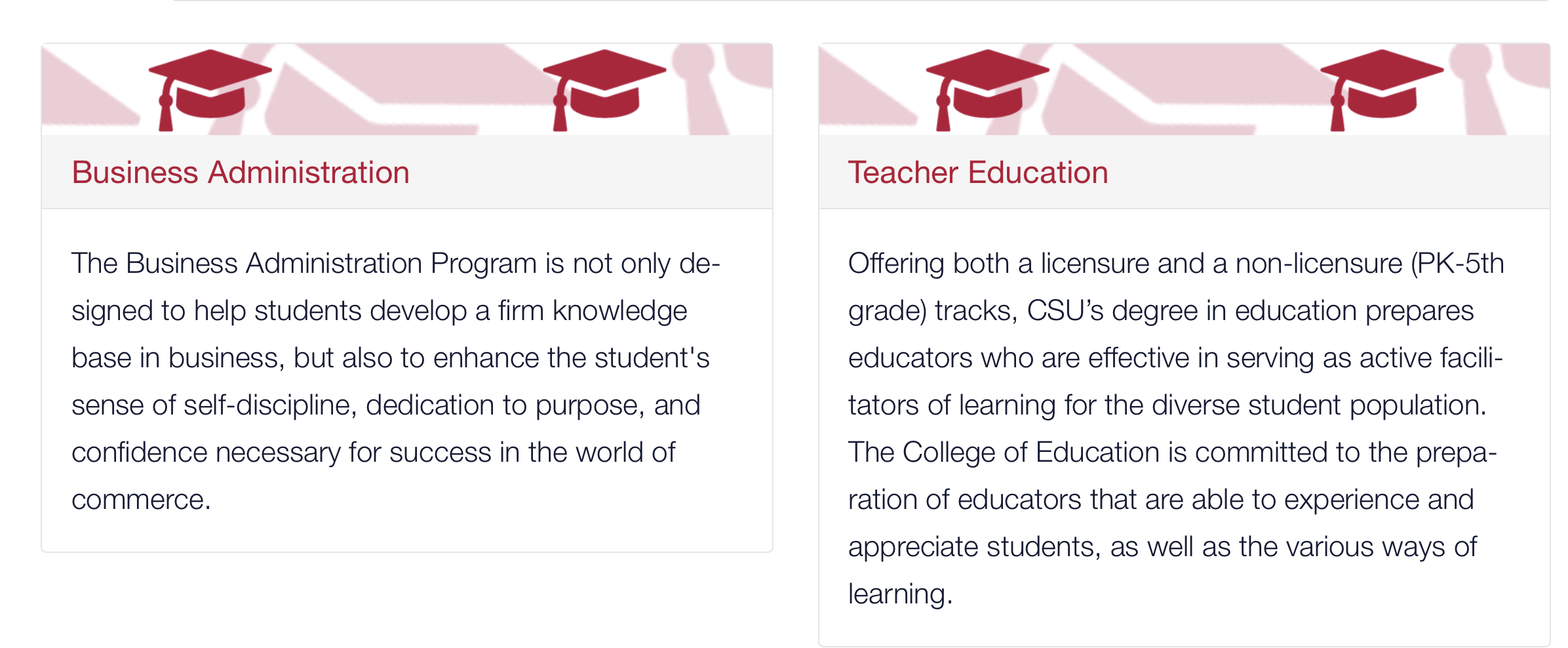 Questions? Please Complete the interest form
And You Will Be Contacted By An Advisor. Or call 888-897-9671
2020 ACADEMIC YEAR UPCOMING START DATES
SPRING (1) START JANUARY 13, 2020 - SPRING (2) START MARCH 9, 2020
FALL (1) START AUGUST 17, 2020 - FALL (2) START OCTOBER 5, 2020